The passing of Mac Miller in September of this year (2018) greatly affected the hip-hop community, with tributes and well-wishes to the family pouring in from friends and past collaborators;
Unreal. So sad. RIP Mac Miller ❤️

— Shawn Mendes (@ShawnMendes) September 7, 2018
I dont know what to say Mac Miller took me on my second tour ever. But beyond helping me launch my career he was one of the sweetest guys I ever knew. Great man. I loved him for real. Im completely broken. God bless him.

— Chance The Rapper (@chancetherapper) September 7, 2018
Mac's peers came together after his passing and planned a tribute and charity to honour his commitment to the arts, titled 'The Mac Miller Circles Fund'. Proceeds from the concert would be donated to the fund, which seeks to provide opportunities via programmes and resources to less privileged communities, an act that would rally up support from people regardless of skin colour, ethnicity, and religion.
Memorial Concert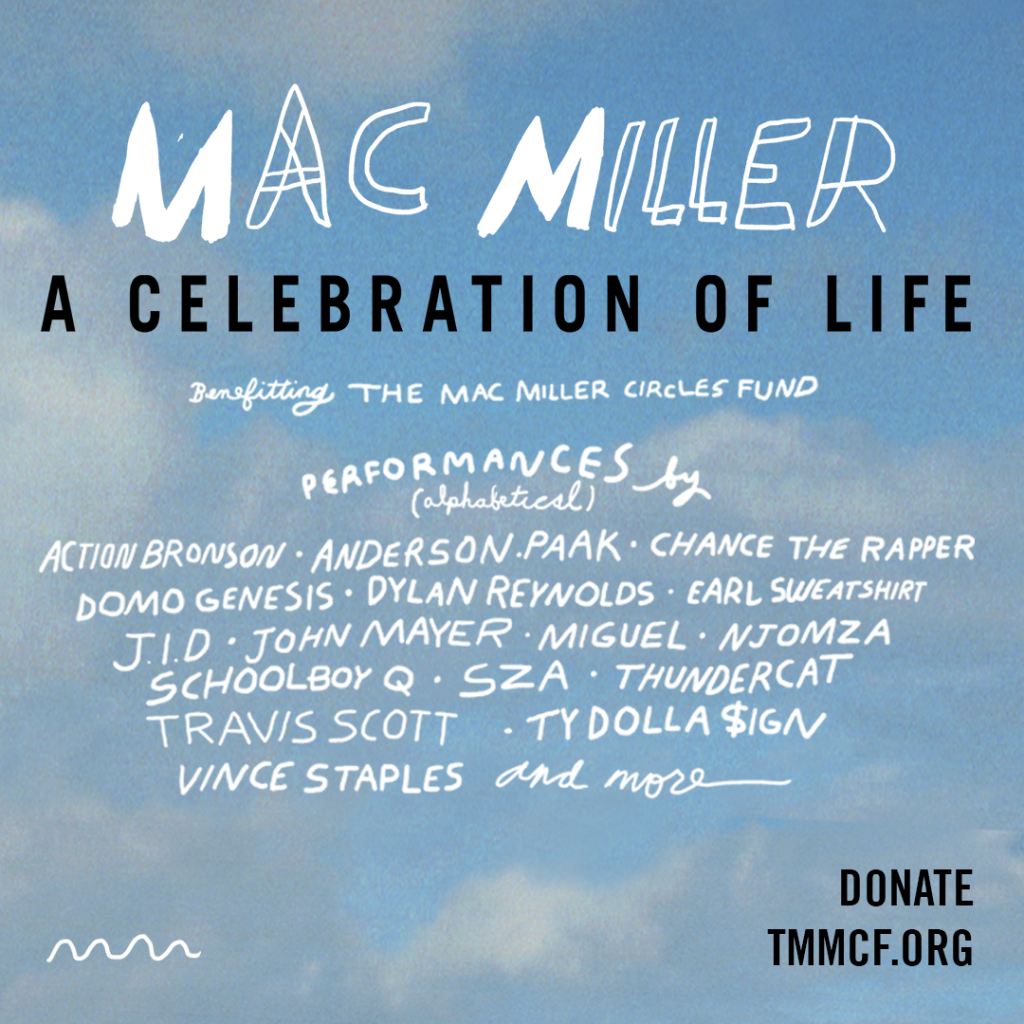 Promotional poster for the tribute concert
The concert was streamed live on multiple platforms (e.g: Facebook, Youtube, Deezer) and drew a huge number of viewers who tuned in to both pay their respects to a lost 'great' of the industry, and for the music of his peers. The star-studded lineup consisted of artists who in their own capacity would be 'headliner' material which solidified how much of an impact Mac Miller had to the industry and also to those around him who regard the man as a 'kind and generous individual' and a huge loss to the music industry.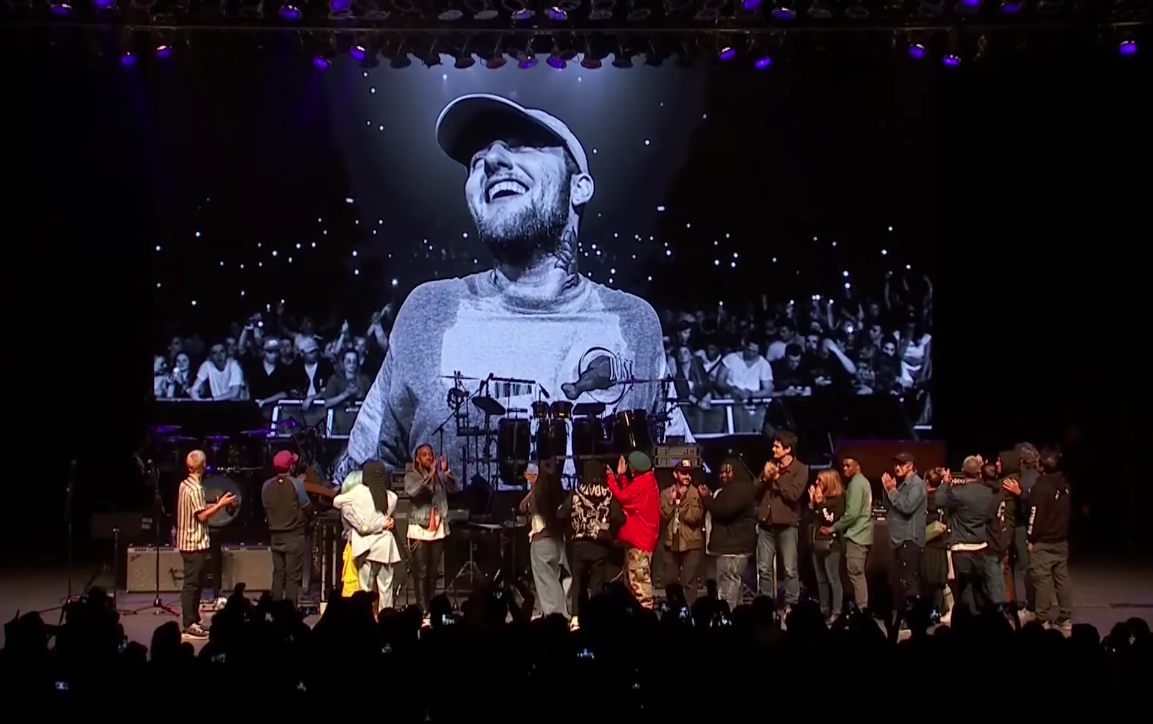 Full lineup of the tribute concert, overlooked by an image of Mac Miller
During the concert, Chance The Rapper expressed genuine appreciation for the time he had spent with Mac Miller, saying;
"Mac, thank you for so many different things. Thank you for the music you made; thank you for the music that you provided other people with, for the opportunities that you provided me with, but overall, for the friendships that you built through your music and through your artistry.",
This was followed by SZA saying;
"Without Mac, there would be no me, like half of us (performing). God bless you, we love you so much, Mac."
There were even some behind the scenes footage of Mac's collaborators Thundercat and John Mayer messing around a few days before the tribute concert on John Mayer's Instagram live show,
Foreshadowing of sorts? They did perform this song together again on the day of the concert, and what a performance that was. Snippets of the tribute wouldn't do it justice, and thankfully there is a full video of the ENTIRE concert uploaded on Youtube in 1080p because we shouldn't settle for less.
What About Ariana?
Now you're probably wondering why Ariana Grande wasn't a part of the tribute (either as a participant or audience) despite being together for around two years.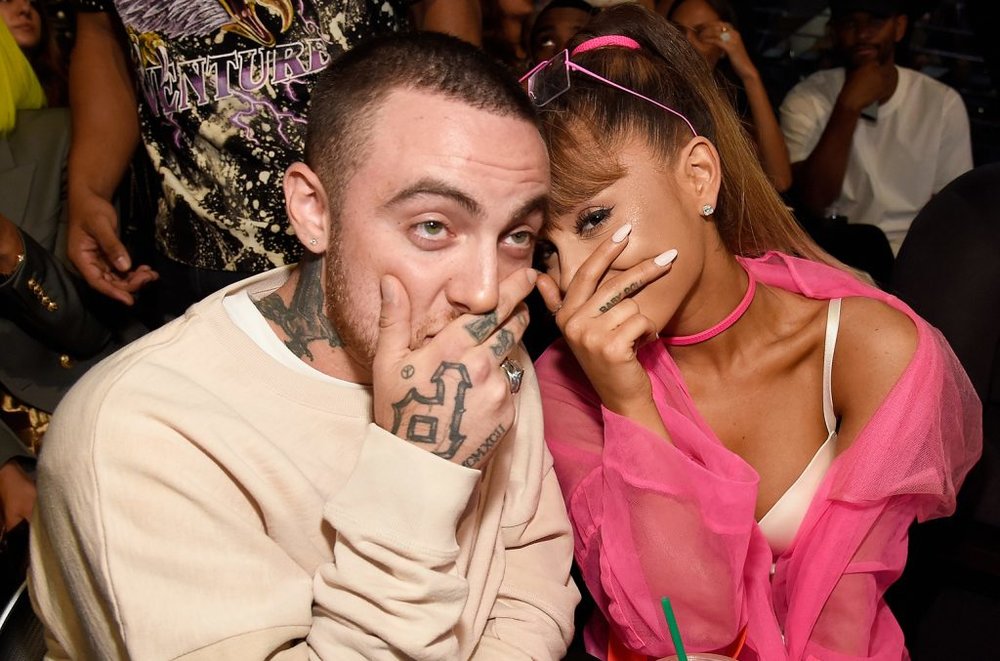 Mac Miller & Ariana Grande at the 2016 MTV VMA Awards
The power couple separated amicably in May of 2018, and Ariana confirmed this by an Instagram story, saying
"This is one of my best friends in the whole world and favorite people on the planet, I respect and adore him endlessly and am grateful to have him in my life in any form, at all times regardless of how our relationship changes or what the universe holds for each of us!".
They remained friends until his untimely passing.
She was evidently devastated by his passing, with a series of posts starting from the Instagram post  on his day of passing which tugged at our heartstrings. The latest of which, on Nov 9, which reads
u in my dreams that's why i sleep all the time

— Ariana Grande (@ArianaGrande) November 10, 2018
The tweet is no cryptic message as fans of the late Mac Miller noticed that she borrowed a line from his song 'Cinderella' off 'The Divine Feminine' which was released in 2016.  Ariana also revealed in a tweet that the song Cinderella was written about her providing more context for why she would tweet the lyrics of this particular song.
Ariana had different plans in mind . In her latest single 'thank u, next' that was released on the 5th of November, she clearly addresses her past relationships and how it has culminated in self-love and self-discovery.
The last line of the opening verse sings 'Wish I could say, "Thank you" to Malcolm, 'Cause he was an angel' in her harrowing vocals. This is the first time since Mac's passing that she has sung about him, and in a way most befitting of her and for him.
A bittersweet ending, but it is one that can be closed on a positive note. Mac Miller released his final album 'Swimming' just about a month (3rd August 2018) before his passing which has been proven to be a landmark of the legacy he has left on the hip-hop community before his passing, the final performance of a young star.