From diamond studded collars, caviar flavored treats, luxury spa treatments and Egyptian cotton mini sweaters –you don't mess around with some celebrities and their pets. Hollywood's highest paid celebs might spend a whole lot on themselves, but there's no telling how much they're willing to spend on their furry best friends! Unlike the usual Hollywood stereotype of pocket sized Chihuahuas, here's a list of unique, posh and pampered celebrity pets that might or might not have more in their bank account than we do.
1. Dora and Liam Hemsworth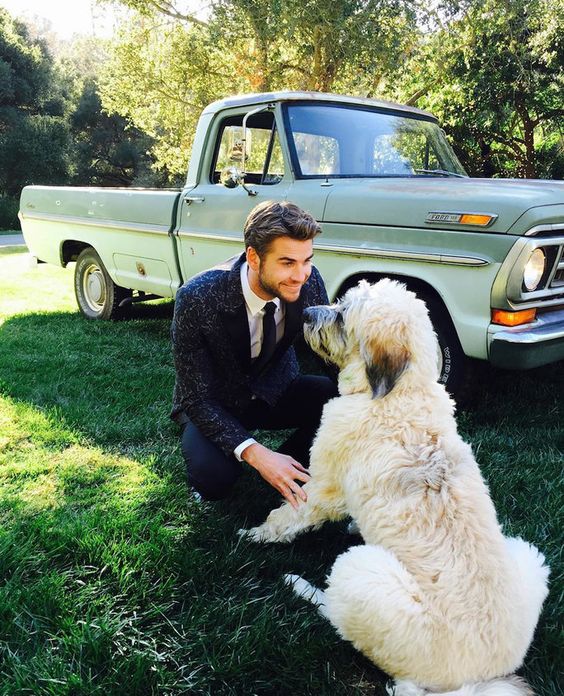 Liam Hemsworth posing with his dog Dora
Is there really anything better than hunks with cute dogs? We're not so sure. Speaking of, the main hunk of the 21st century himself; Liam Hemsworth is all about his dog Dora! The labradoodle was actually a gift from Liam's superstar girlfriend, Miley Cyrus –and they both adopted her after falling in love with the pup at a shelter. Ever since then, Liam and Dora have been pretty inseparable and, even though Dora has been afraid of men in the past. If you head on over to Liam's page, you can also get your daily dose of Dora's cute little mug posing for photos!
2. Ariana Grande and Toulouse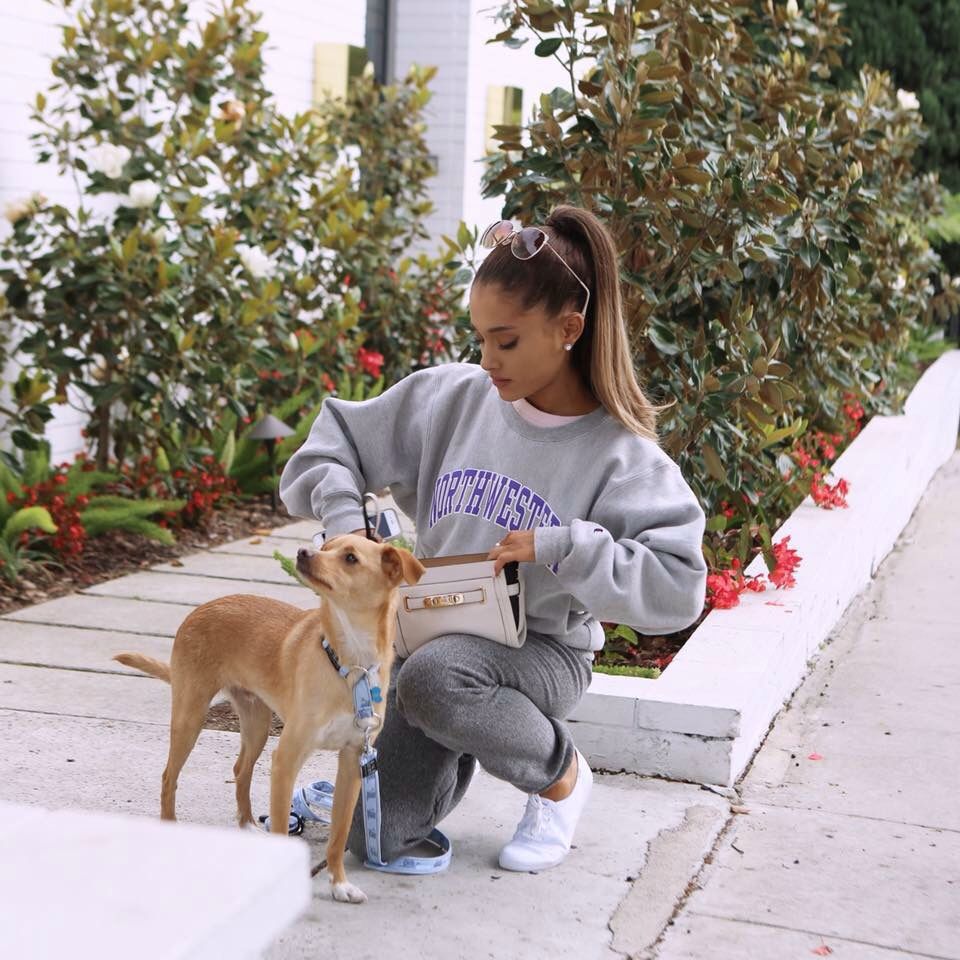 Ariana Grande photographed with her dog Toulouse 
Speaking of star studded pets, no list would be complete without Ariana Grande's bundle of joy. Toulouse is a rare mix of Beagle and Chihuahua, which explains just how adorable he always looks! Toulouse was also adopted from a shelter back in 2013, and Ariana was so happy she got him that she cried tears of joy! Since The Aristocrats was one of her all time favorite movies, Ariana named the little pup after a beige kitten in the film. The best part? Ariana is so attached to Toulouse, that she often brings him along for her tours all over the country.
3. Gigi Hadid and Cleo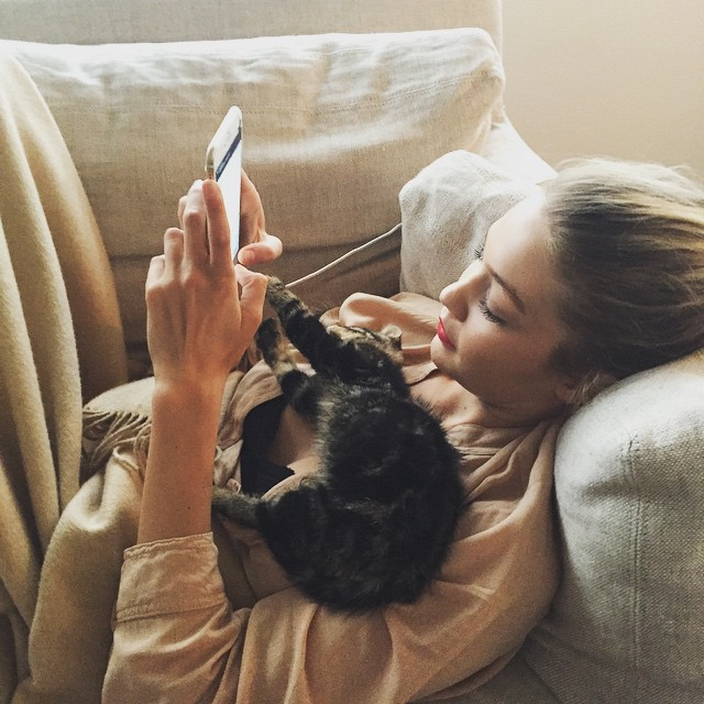 Gigi Hadid curled up with her kitten Cleo
There's no doubt in the world that Gigi Hadid is one of the most gorgeous women in the business right now. This model and influencer is no stranger to the limelight, but she's recently brought a furry friend to share in it with her! Gigi Hadid adopted Cleo and then wasted no time making the little feline an Instagram account to share all of her daily adventures. The account titled @therealcleohadid has around 13k followers and counting.
4. Sophie Turner and Porky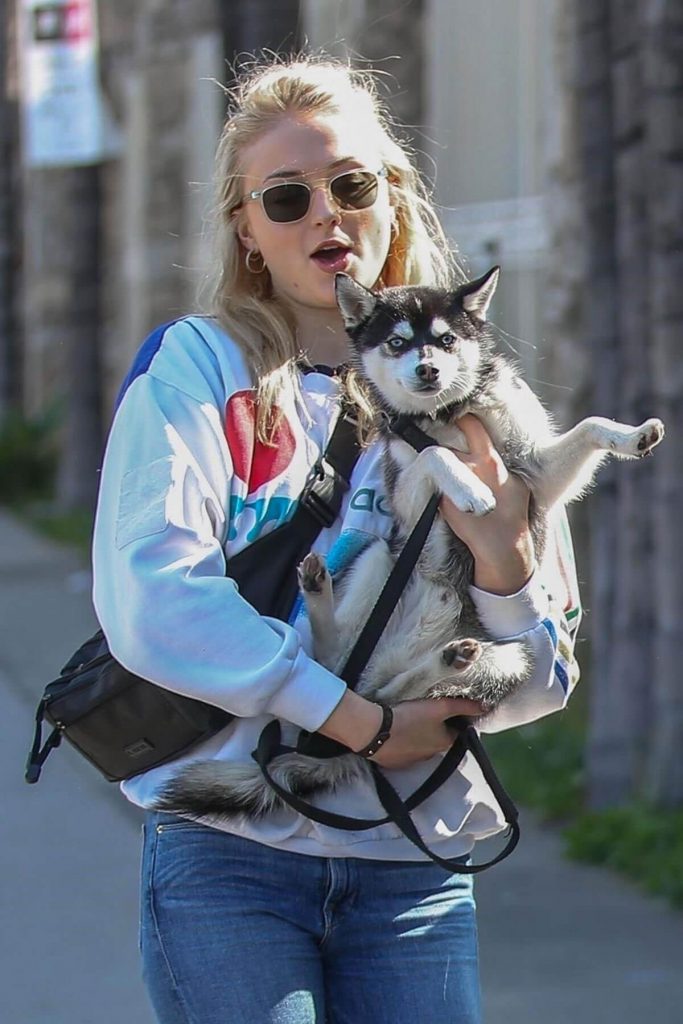 Sophie Turner and her Alaskan Klee Kai, Porky
Game of Thrones fans would know about the existence of direwolves in the show. It's probably a lesser known fact, but Sophie Turner who plays Sansa Stark actually fell in love with one of the dogs on the show! Sophie then adopted the gorgeous pup along with her boyfriend Joe Jonas, and both of them named him Porky Basquiat. Many people seem to think that it's a Siberian Husky, but Sophie has recently cleared the air and announced that its actually an Alaskan Klee Kai. Shortly after, Sophie also adopted Porky's brother from the same litter and named the pup Waldo Picasso! Besides being unbelievably adorable, these pups are known throughout social media for their cheeky names.
5. Amanda Seyfried and Finley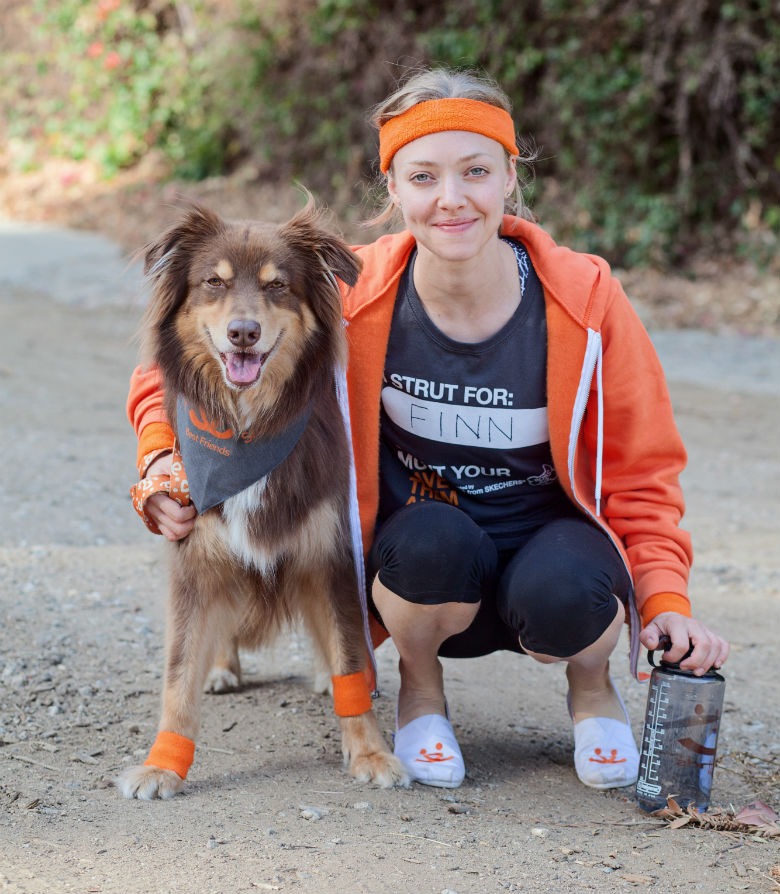 Amanda Seyfried and her dog Finley 
When it comes to gorgeous big dogs, Amanda Seyfried's dog Finley is a serious contender. The duo met on the set of Big Love, a show Amanda starred in when she was only 18. Amanda's plan was never to adopt a dog permanently however, but to just foster one till a forever home came up. After looking after Finley for 24 hours, Amanda knew that she wasn't going to be able to let him go –and a beautiful relationship was born. From that point onwards, Amanda has taken Finn to almost all of her gigs!
6. Tori Spelling and Coco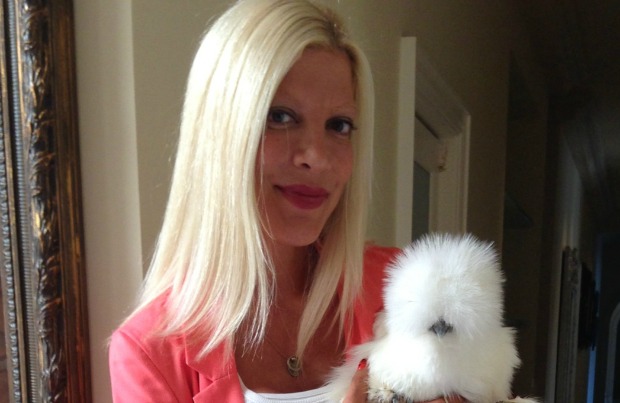 Tori Spelling posing with her chicken
Not all celebs have dogs and cats –some of them have chickens! Tori Spelling actually owns her own pet silkie chicken that was a gift by husband Dean McDermott. Not the most traditional pet, but her kids and entire family seem to love it!
Whether or not it's dogs, cats or chickens, celebrities prove that money and fame are not just everything. Sometimes they need a little furry friend to come home to! It just so happens that some of these pets are worth a whole lot and have thousands of followers on social media accounts.